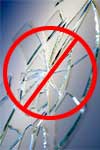 Quartz sleeves are fragile and difficult to seal. Moreover, complicated wiper systems must be installed to keep the quartz surfaces free from fouling by substances in the water.

Quartz glass can crack, cannot withstand pressure or change in temperature. Temperature variations reduces the UV output causing inferior quality of sterilization. Frequent cleaning is needed which increases the chances of breaking the fragile quartz.

In Good Life UV systems, we DO NOT use quartz sleeves, thus reducing both maintenance and operating costs for our customers.